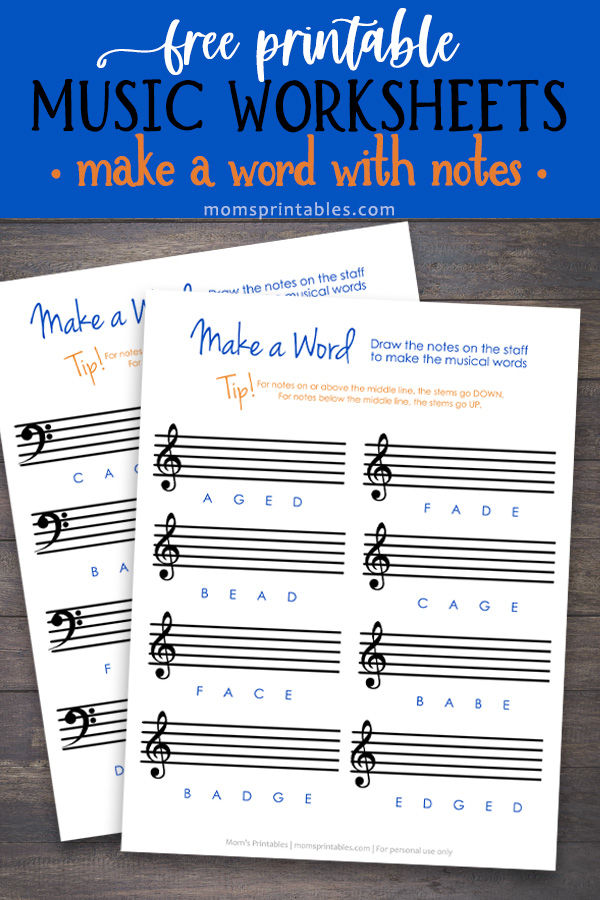 Free Music Worksheets PDF
These free music worksheet PDFs are written on a large staff so that students can easily practice notation. The goal is to "spell" the word correctly with musical notes.
Music teachers play a vital role in helping their students develop a strong understanding of music theory, including the ability to identify notes. Encourage your students to practice identifying notes regularly, and be sure to provide them with plenty of opportunities, such as this free printable music worksheet. The more practice and experience your students have with identifying notes, the more confident and skilled they will become as musicians.
The "Tip!" on the top will remind the students which way the stems go if they are using something other than whole notes. Notes on or above the middle line have stems pointing down, while notes below the middle line will have stems pointing up.
These are for personal use, but YES, music teachers can absolutely use them for their students/classes. Please do not sell these worksheets or post them online.
WHAT'S INCLUDED:
Both the Treble Clef Worksheet and the Bass Clef Worksheet (scroll down to the big download buttons)
8 words on staves (on each page) to notate
Tip at the top of the page to remind students which direction note stems should go


Starting a young child on piano? I highly recommend the Music for Little Mozarts series!
I hope these worksheets are helpful for you! Leave a comment below if there's another worksheet you're interested in seeing us publish!
You may be interested in our other MUSIC WORKSHEETS:
:: PIN FOR LATER ::