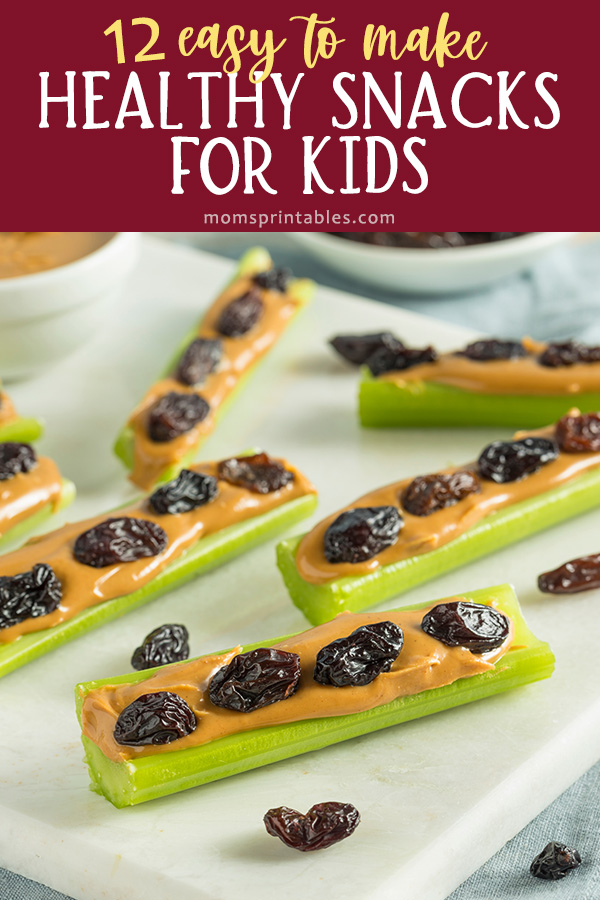 Healthy Snacks for Kids that are Easy to Prepare
These snacks are all easy to prepare and packed with healthy nutrients, making them a great option for kids. Since so many of us are on-the-go, they are also portable, making them easy to have packed to take to school or other activities.
Healthy snacks are good for kids for a number of reasons: first and foremost, healthy snacks provide essential nutrients that kids need for proper growth and development. These nutrients can include vitamins, minerals, protein, fiber, and healthy fats, all of which are important for maintaining good health and supporting healthy habits.
Another benefit of healthy snacks is that they can help kids maintain a healthy weight and prevent obesity. Many unhealthy snacks are high in calories, sugar, and unhealthy fats, which, of course, can contribute to weight gain and other health problems. When we help them choose healthy snacks instead, kids can consume fewer calories but still get the nutrients they need without overdoing it on empty calories and sugar.
Healthy snacks can also help kids perform better in school. Many unhealthy snacks, such as sugary drinks and processed snacks, can cause blood sugar spikes and crashes, which can affect concentration and energy levels. Healthy snacks, however, can provide sustained energy and support brain function, helping kids stay focused and perform their best in school. I know this isn't just true for kids – when I am busy and just drink coffee and grab an unhealthy snack, I feel those crashes and low energy levels! It's even harder on growing kids!
:: PIN THIS FOR LATER! ::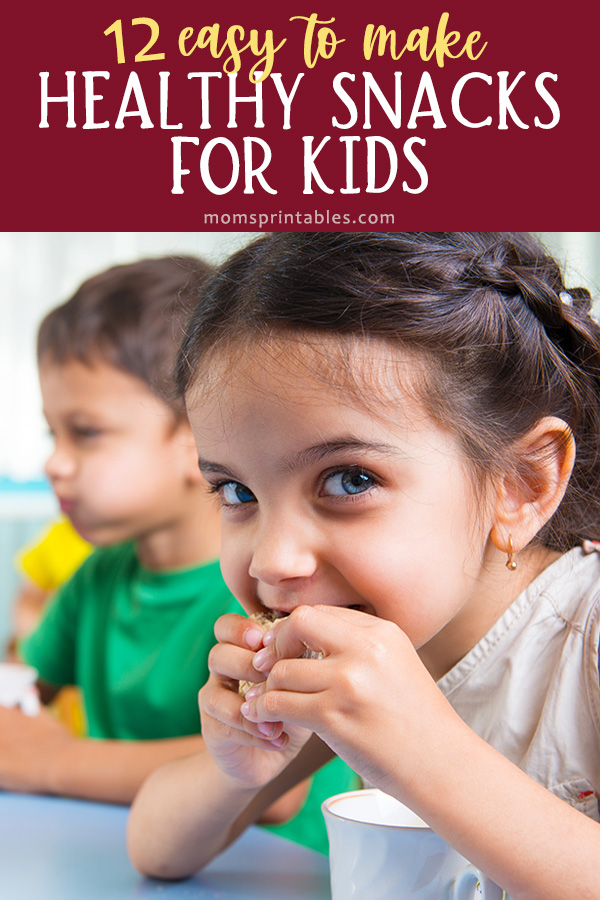 Here are twelve healthy snack ideas for kids that are easy to prepare:
Apple slices with almond butter: try slicing them in rings for cute apple "cookies" topped with peanut or almond butter and even a sprinkle of granola! For a more convenient on-the-go snack, traditional apple slices and a dollop of peanut or almond butter is easier. I recommend this container for taking it on-the-go >> CLICK HERE
Carrot sticks with hummus: I make a big batch of hummus weekly because it's one of my kids' favorite snacks! I don't use a recipe, but what I do is very similar to this easy recipe >> EASY HUMMUS
Hard-boiled eggs: This is such an easy grab-and-go snack. I try to keep my fridge stocked with hard-boiled eggs when it's possible. Wondering how to hard boil eggs? Check out THIS POST. If you have an Instant Pot, you can do it this way so easily! >> INSTANT POT HARD BOILED EGGS
Greek yogurt with berries and honey: This is one of my favorite snacks. 🙂 We get local honey which also has helped so much with our allergies! Did you know: If you're lactose intolerant, because Greek yogurt is strained, most of the lactose is strained off. Plus, the probiotics in Greek yogurt help digest the little lactose that there is left. So for lactose-intolerant people (myself included), Greek yogurt is ok to eat!
Edamame: Try this recipe for a yummy snack >> CRISPY EDAMAME
Ants on a log: Ants on a log is traditionally celery with peanut butter and raisins, but there are lots of ways to do this! Healthy Little Foodies has lots of options, like cream cheese and cherry tomato halves, hummus and olives, and more! Check out the other options here >> ANTS ON A LOG OPTIONS
Air-popped popcorn: We pop our popcorn using the POPCO microwave popcorn popper and it's so simple. If you're not a microwave user, there are other options, like this one that is similar to what I grew up with. Top with melted butter or olive oil and salt, and it makes for a great snack!
Whole grain crackers with cheese: We eat sliced Gouda cheese because it is very high in probiotics, and it is naturally lactose-free (some say a tiny bit of lactose may be in it, but virtually LF free)! In Europe, it's commonly served with breakfast because of its health benefits.
Cucumber and tomato slices with avocado dip: Did you know you can freeze avocados when they're on sale? Then pop them out of the freezer to whip up a quick dip when you need it! Here's how >> HOW TO FREEZE AVOCADO
Frozen grapes: This snack is perfect for warm weather! You can eat grapes right out of the freezer (they're not rock-hard like you'd think they would be!), or you can pull them out and let them sit for 5 minutes before eating. Be careful of giving whole grapes to little kids that might choke – cutting them in half is a better option.
Trail mix (nuts, seeds, and dried fruit): This one's fun because you can get creative and tailor it to what foods your kids like. And if you feel like making it a "special treat," you can add a few dark chocolate chips. Tip: go to the bulk food of your grocery store to get a variety of foods for your trail mix.
Smoothie with fruit and yogurt: Smoothies are one of my favorite things to eat for breakfast or lunch. 😋 These glass tumblers are so pretty, but I would give these ones to my kids >> COLOR CHANGING CUPS
Healthy snacks are great for kids because they provide essential nutrients, help maintain a healthy weight, and help them perform well in school. It's so important for us to teach our kids to choose healthy snacks so that they develop healthy habits!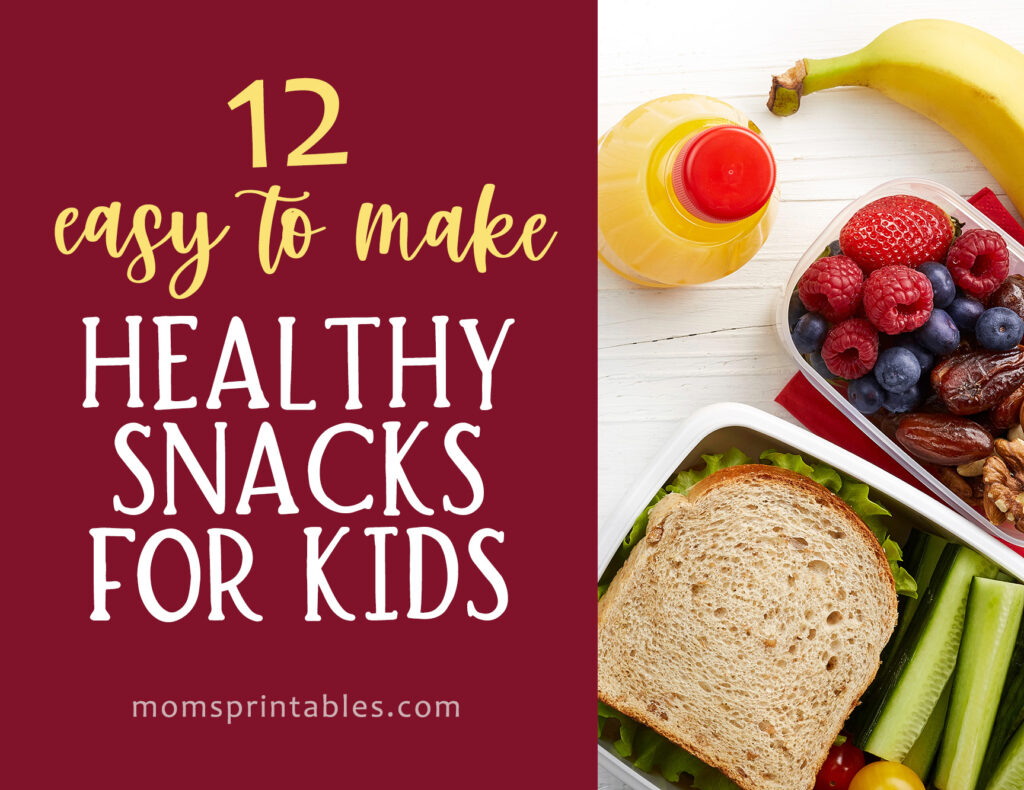 Ready to get your kids to help in the kitchen? If they're ready to learn how to make some of their own food, you'll be interested in my favorite cookbooks! Head HERE to check them out!