Multiplication Chart Printable (with worksheets!)
Sharing with you my free multiplication chart printable, with worksheets to practice after they've done the memorization.
I use these with my boys during the summer so they don't forget their times tables.
These multiplication charts are bright and colorful to help keep kids engaged!
I recommend printing them on cardstock and then laminating them if you plan on using them again and again.
You can even laminate the worksheets so that kids can write on them with a dry erase marker and erase for another time!
(Scroll to the end for the multiplication chart printable DOWNLOAD buttons.)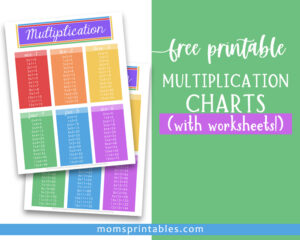 How to use the Multiplication Charts:
Use these multiplication charts to help your child solve their times tables while they're in the process of memorizing them, and also use them as their memorization chart!
Kids will greatly benefit from learning their times tables, and reciting them often is a great way to instill them into their brains!
When kids read and recite their multiplication tables, they are getting it in in THREE ways: with their eyes, with their mouth, and with their ears. Through the combination of seeing + speaking + hearing, it gets into their memory really well! It won't be long before they can answer without thinking about it if they recite these daily.
To break up the monotony of recitation, I like to go back and forth with my kids, alternating saying them between them and me. It keeps them on their toes and makes it a bit more interesting.
Do your kids know HOW multiplication works?
You can demonstrate with groups of objects so that they can picture it better…or have them demonstrate it to *you* so you can see if they understand the concept.
Make sure your kids also know that the times tables can be reversed — 6×3=18 OR 3×6=18. We usually say them both ways.
Another way to use these it to count by the number group. For example: for the 4 times table, you can say "let's count by 4's" and just recite the answers: 4, 8, 12, 16, 20, 24, 28, 32, 36, etc. so that if when they do get stumped later on, they may be able to pull this out of their memory and figure it out.
All kids learn differently, and you'll have to watch and see which method most benefits your child as they learn their multiplication tables.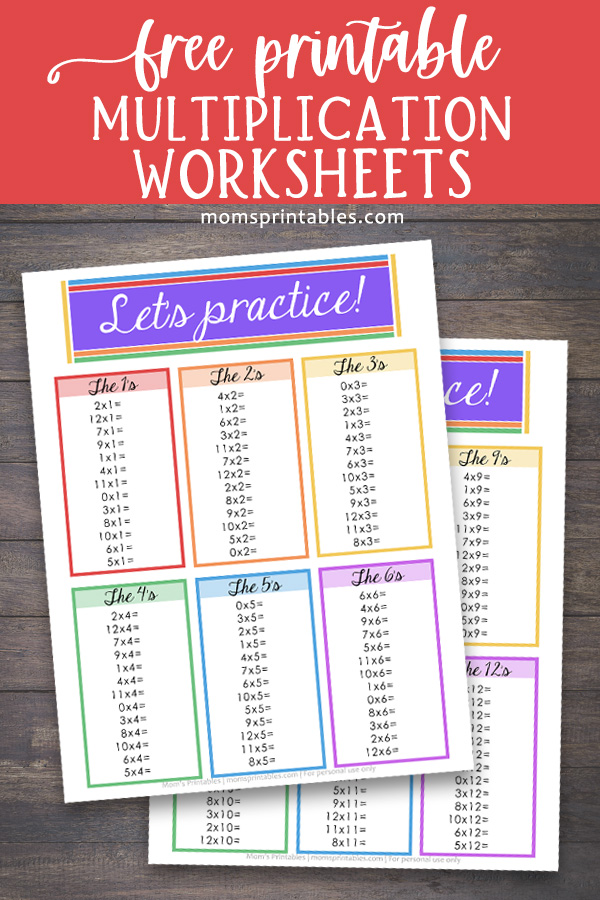 Multiplication Charts Printable WORKSHEETS
We also have multiplication worksheets so that your student can set the chart aside and see what they've learned!
It would be great to laminate these and have them available to use again and again with dry-erase markers!
Our multiplication chart worksheets are great for parents, teachers, and math tutors to use in helping kids learn!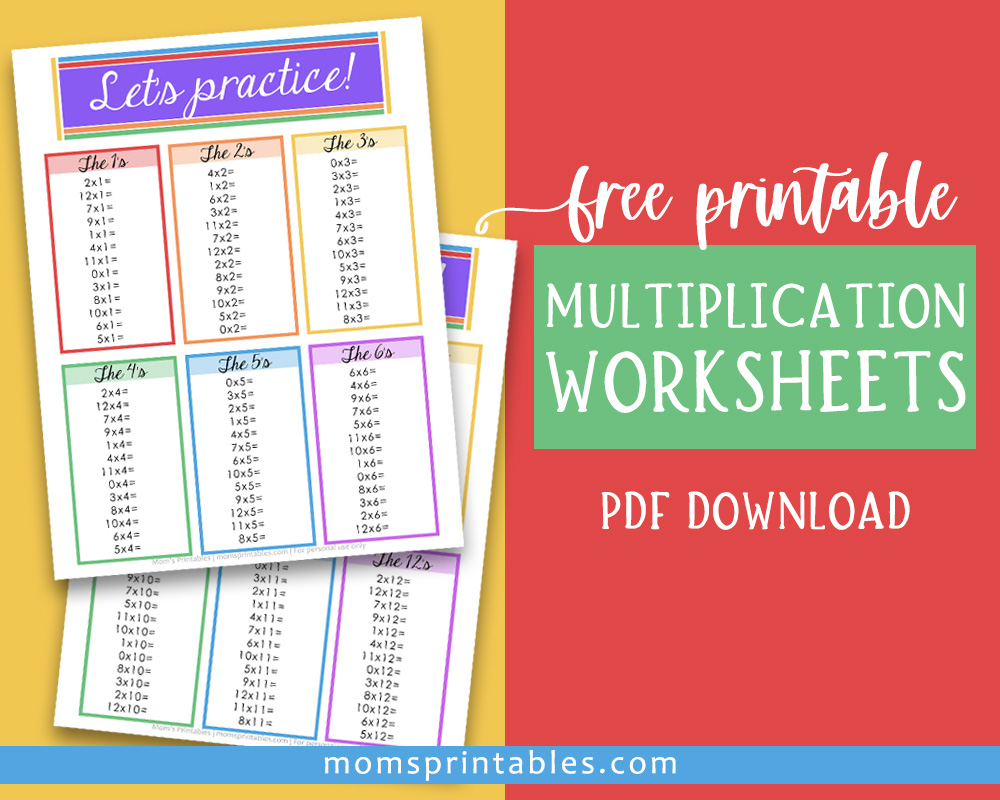 First things first — here is the download button ⬇️ so you can get your multiplication chart printable ready to use!

When you're ready for the worksheets, click the download button below to open the printable PDF. ⬇️

Why do we need to know multiplication and times tables?
Multiplication is the main tool for most forms of math, so it's essential to get these multiplication tables down well before moving on! Otherwise, trying more complicated forms of math will be frustrating.
If you don't get multiplication down, you'll end up figuring out the answer by repeated addition, which takes much longer and more brain space, leaving less energy and brain space for the remainder of the math problem!
To get a good start on learning multiplication, click on the download buttons above ⬆️  to get our Multiplication Chart Printable PDF and our Multiplication Worksheets FREE!
We hope this is a useful tool for you, and if you use them, we'd love for you to comment below and let us know! ❤️
:: PIN FOR LATER ::